Deep Tech in the Dutch Startup Ecosystem
The Netherlands is currently lagging behind in total deep tech investment compared to other European startups ecosystems. Although the Netherlands ranks highly in global scientific research, more efforts need to be made to accelerate innovation, knowledge transfer from university, knowledge institutions to spin-offs or startups.
Techleap.nl together with Birch has mapped out the Dutch deep tech startups and its potential in tackling societal challenges and accelerating innovation. Different deep tech clusters are shown to better understand the interplay between technology, industry and their potential. The blogpost highlights key takeaways from the research and shows the different technologies that can be considered as deep tech.
What is a deep tech startup?
Deep tech startups or also known as knowledge-intensive startups in the academic world are companies that leverage new technologies. These startups can come directly from universities or they spun off/ out from existing companies and research organisations. Deep tech startups have high potential due to their breakthrough science thus having the potential to revolutionise the industry by creating new industry verticals; examples of these are photonics technologies which created solar-powered transportation and artificial intelligence which accelerated automatisation and processes. However, they are also characterised as capital intensive and risky due to their longer runaway to market application.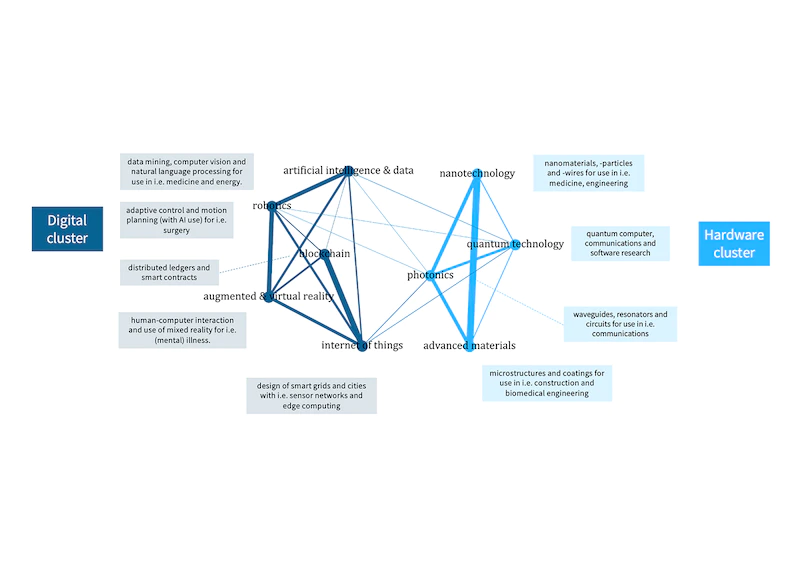 Categorising the deep tech enabling technologies
The deep technologies can be divided into two clusters, hardware and software clusters. As seen from the diagram above, these two clusters complement each other. The main difference between these two is in their development phase; technologies in the digital cluster require less time to market compared to those within the hardware cluster. Longer time to market also entails more time, risk, and capital investment.  These two clusters are interrelated to one another, as research advancement in one deep tech will likely contribute to applicability for another deep tech. An example would be the traction into personalised medicine which requires a hardware technology (e.g. advanced material, nanotechnology) component while also involving a digital cluster tech (e.g. artificial intelligence & data, internet of things) to process data input for accurate medical recommendations.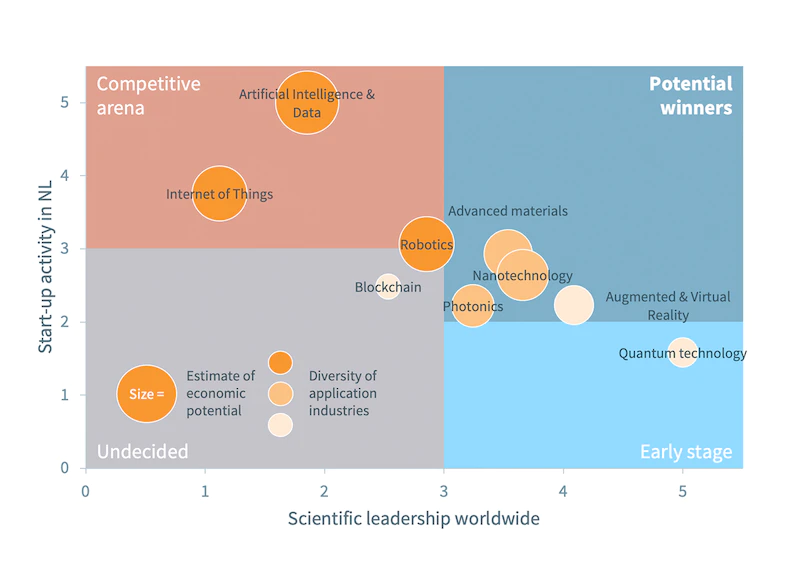 Areas of opportunity for Dutch deep tech startups
The estimated ranking of Dutch scientific leadership per deep tech is based on the number of scientific publications per capita. The matrix above shows four quadrants based on current startups activity using different deep technologies and the Dutch scientific leadership worldwide. Current competitive areas are within Artificial intelligence & data and Internet of Things, however scientific leadership worldwide is lower relative to research in other deep technology clusters. Robotics, advanced materials, nanotechnology, phonics and augmented & virtual reality have relatively high scientific leadership worldwide. Although startup activities are lower for these technologies, they have a great potential in addressing societal challenges and while contributing to significant economic impact.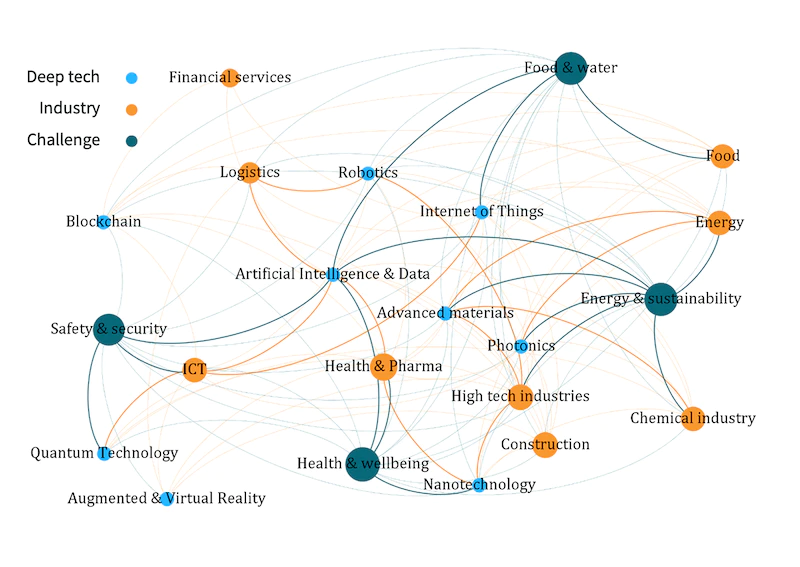 Societal impact requires new combination of technology and industry
The diagram above shows three focus areas; healthtech, ClimateTech, and hightech. The health & wellbeing challenge has attracted significant deep tech investments. However, not all promising technologies have high startup activities and funding, thus signaling a potential missed opportunity. HealthTech start-ups generally have longer runways because of testing and regulation requirements. Across industries deep tech startups have been formed to address the energy & sustainability challenges. Individually these startups do not yet form a cohesive ecosystem and several technologies remain underfunded. ClimateTech faces barriers in disrupting current energy systems. The high-tech industry in the Netherlands serves as an innovation incubator for deep tech in multiple industries. The ecosystem relies on research leadership in existing incumbents and there is relatively less start-up activity and funding (compared to e.g. ICT). Startups in this space often remain a specialised supplier for other companies but do not grow beyond SME status.
Techleap.nl activities to support the development of deep tech startups
The realisation of Dutch deep tech startups' potential can only happen through strengthening collaborations between universities, knowledge institutions, startup hubs, incubators, government and investors. Various projects to tackle bottleneck, deep tech startups programmes and efforts to strengthen science to impact are currently underway. Stay tuned for more information to come on how to strengthen Dutch deep tech startups!